At-home dosing and administration
The NUCALA Autoinjector for at-home administration.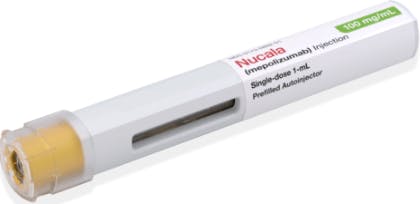 Consider at-home administration with the NUCALA Autoinjector for appropriate patients aged 12 years and older or choose to administer in the office.
12-week, open-label study assessed the correct use of the NUCALA Autoinjector in patients aged ≥12 years with severe eosinophilic asthma (n=104). NUCALA was administered as one 100-mg subcutaneous injection every 4 weeks by the patient or caregiver after being trained on proper technique with the Autoinjector at baseline. Successful use was determined by investigator observation using a checklist of steps based on Instructions for Use and visually inspecting the Autoinjector following the third dose. Ease of use and convenience of use at home were measured at study end on a 5-point scale (not at all, a little, moderately, very, and extremely) in the 102 patients with successful use.1,2
At-home dosing and administration with the NUCALA Autoinjector:
Fixed 100-mg dose independent of weight
NUCALA may be administered by the patient or a caregiver
Subcutaneous injection every 4 weeks into the thigh or abdomen (or upper arm by caregiver)
Intended for use under HCP guidance. Provide proper training on injection technique and administration using the Instructions for Use after determining at home use is appropriate.
Download a guide to start appropriate patients with at-home administration
Administration of NUCALA with a single-use Autoinjector or 100 mg/mL prefilled syringe
Keep NUCALA and all medicines away from children.
WARNINGS
Do not use any Autoinjector or prefilled syringe more than 1 time.
Do not share the Autoinjector or prefilled syringe with other people.
Do not use the Autoinjector or prefilled syringe if it was dropped or looks damaged.
STORAGE INFORMATION
Store in the refrigerator between 36°F to 46°F (2°C to 8°C)
Keep in the original carton until time of use to protect from light
Do not freeze
Do not shake
Keep away from heat
If necessary, an unopened carton can be stored outside the refrigerator at up to 86°F (30°C) for up to 7 days
Do not use the Autoinjector or prefilled syringe if it has been left out of the carton for more than 8 hours